This review was written by myself, first published on the AOI website on 10th April 2018 and is available on their website. The book can be bought online and in bookshops and more information can be reached through their publisher,  Thames & Hudson ISBN: 9780500651568 
  The Fox on The Swing is the first book for Thames & Hudson by Evelina Daciutè and Aušra Kiudulaite, an author and illustrator both working out of their native Lithuania. With the eponymous orange fox blissfully swinging away against the inky cover, we are invited into the hunt for happiness.  
The story begins with a very big tree in a big city in which we find a boy named Paul. Living with his 'fairly normal' parents, a mass of orange pots, an orange helicopter and a love for the smell of freshly baked buns, Paul lives happily and quietly until the unexpected happens- a bright orange fox comes into his life, slowly at first, and then all-encompassing. Wise and strange, the fox teaches Paul all about happiness, and how to become independently happy.
Alone and in a friendship like no other, Paul discovers the complexities of everyday life, and the small pleasures that keep us going. In this orange pencil shaded world, generosity towards others and sharing one's own riches always reaps reward. Confident readers from age 7 will find this a new and interesting story, compellingly laid out by Daciutè.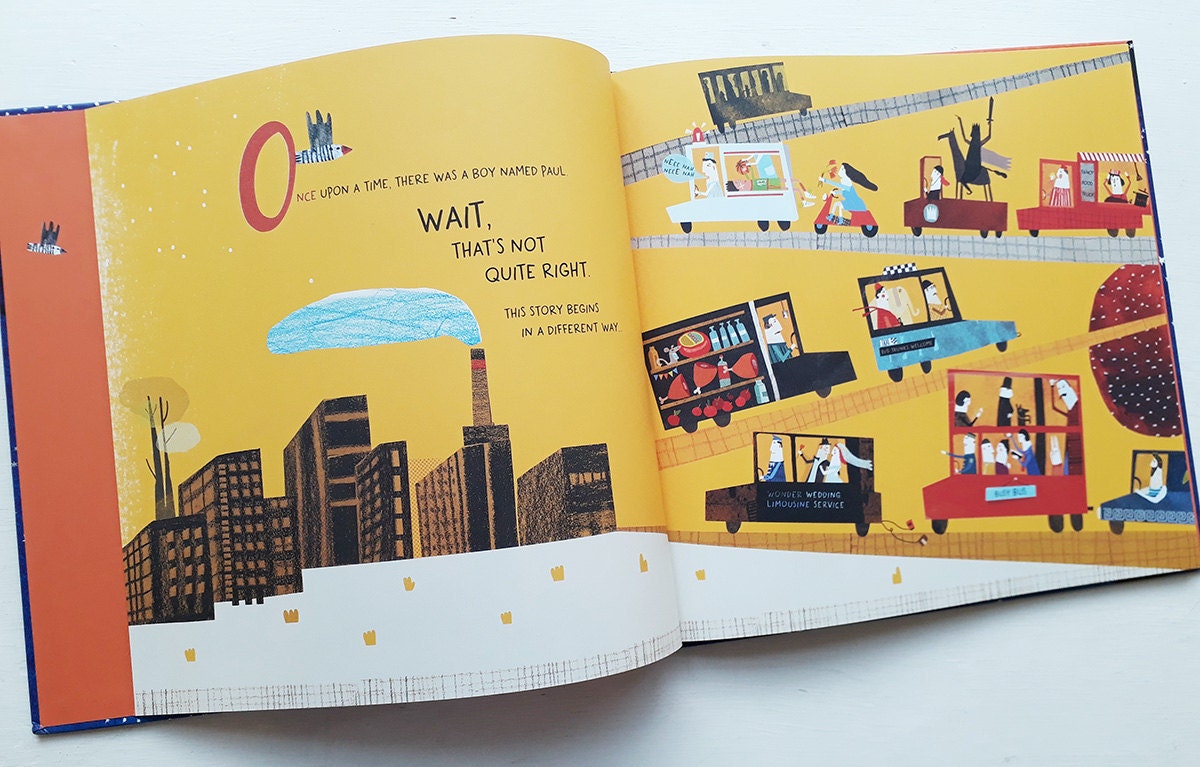 Quirky and fun, the story also delves into melancholy and the acceptance of change, and tackles the edges of some very deep thoughts about self, all illustrated in a charming and fantastical set of images. Kiudulaite has created a beautiful scrapbook effect of colour and form that adds a playful drive to an ambitious and original narrative. The subject never feels overwhelming in keeping with the friendliness of the images.  
The challenging language is set at different sizes and integrated into the text reassuringly amongst an ensemble of characters and curious details that make it an enlivening book to read. The richness and complexity of the images allows a break from the text without stifling it.   
The use of pattern and texture in the images is particularly cheerful, and there are some lovely double page spreads that always require a closer look before moving on. A bubble-blowing blackbird, the second Swiss roll and a rather fabulous pair of stripy blue boots await the curious adventurer.