This review was written by myself, first published on the AOI website on 22nd June 2018 and is available on their website. The book can be bought online and in bookshops and more information can be reached through their publisher,  Published by  Wide-Eyed Editions ISBN: 978178631488  
  Have you ever heard of Sophie Scholl? No, I hadn't either, but she was a 21 year old German student who founded the White Rose group to resist the Nazis and was executed after repeatedly handing out literature denouncing the war and the ruling NSDAP and daubing pacifist slogans over the walls of the University of Munich. Her courage and determination to bring an end to the needless destruction of life is one of many admirable and encouraging stories to be found.   
'People of Peace', written by Sandrine Mirza and illustrated by leading  "flat design" proponents Le Duo, is the latest in the '40 Inspiring Icons' series by Wide Eyed Editions, and celebrates the lives, acts and hopes of 40 of the world's most important peace activists. Laid out in an Infographic style, the accessible layout and stylish simplicity makes the book a 'Who's Who' of the human rights heroes. There are the big hitters; Mahatma Gandhi, Nelson Mandela, Malala Yousafzai and Tenzin Gyatso (the incumbent Dalai Lama) and there are also the lesser known men and women who have shaped the world, but who should have wider recognition for their efforts.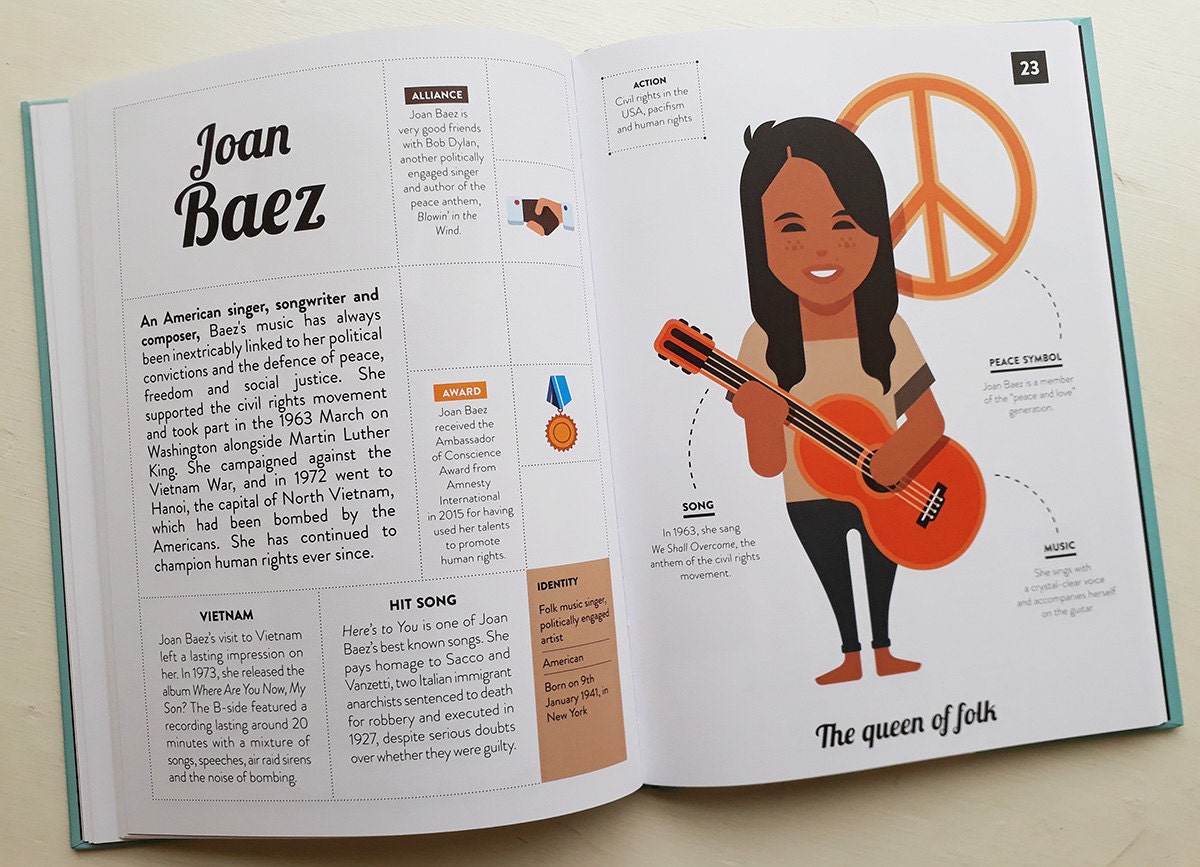 Learn about Jean Jaurès, Henri Dunant, Mairead Corrigan and Betty Williams, Wangari Maathai and many other should-be heroes that fall under society's radar. Included in the mix are figures such as Muhammed Ali, Pablo Picasso, Daniel Barenboim and Joan Baez whose work towards peace may have become eclipsed by their oeuvre, and should probably be further appreciated for it.    
Mirza's historical facts about the subjects are kept short and succinct, and the format allows children to both read short text boxes with snippets, dates and policies and look at the portraits of each person surrounded by bitesize explanations of their lives and works. If anything, the brevity of the words compels further research, a project certainly to be encouraged, especially amongst little ones getting their first exposure to the acts and feats of others. The simplicity of the portraits, with clear and bright graphics allows a greater focus on the words, as well as bringing a cheerful level of equality to each of the subjects without any undue influence to the text. It's clear the infographic format has found the perfect set of illustrators to align the featured summary to.    In these dark times, these people are being recognised by Mirza for their sense, spirit and goodwill towards others, and act as beacons of hope in a world where all of these have become in short supply.